New posts two days in a row?! This new perSISTER poster is for Serena Williams.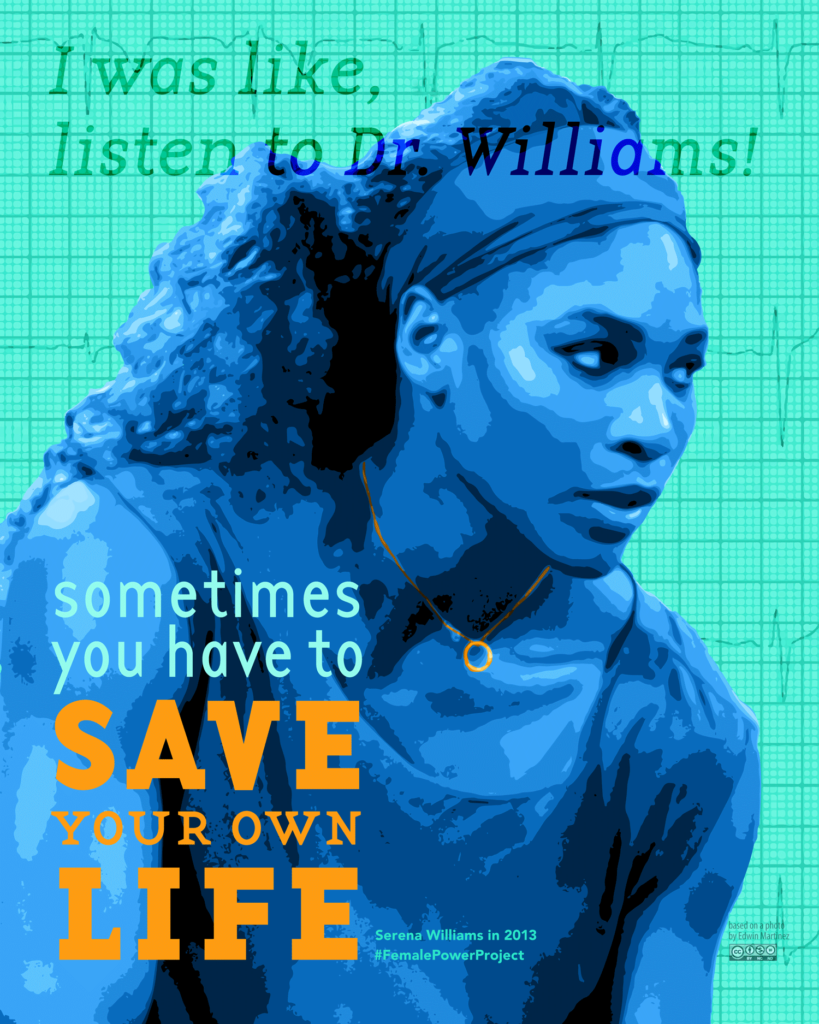 Serena Jameka Williams (born September 26, 1981) is an American professional tennis player. The Women's Tennis Association (WTA) has ranked her world No. 1 in singles on eight separate occasions over the last 15 years from 2002 to 2017. On the sixth occasion, she held the ranking for 186 consecutive weeks, tying the record set by Steffi Graf for the most consecutive weeks as world No. 1 by a female tennis player. In total, she has been world No. 1 for 319 weeks, which ranks her third in the Open Era among female tennis players behind Graf and Martina Navratilova. Some commentators, players, and sports writers regard her as the greatest female tennis player of all time.
At 36 years old, Serena was 8 weeks pregnant when she won the Australian Open in January 2017. This is amazing. Most who have been pregnant will know how incredibly strong she must have been to do this. My own first trimester was characterized by extreme fatigue and food aversions. After walking the dog I had to take a three hour nap.
Serena delivered her daughter by emergency c-section because of fetal distress. The following is from Vogue magazine from January 10, 2018 (by Bob Haskell): The next day, while recovering in the hospital, Serena suddenly felt short of breath. Because of her history of blood clots, and because she was off her daily anticoagulant regimen due to the recent surgery, she immediately assumed she was having another pulmonary embolism. (Serena lives in fear of blood clots.) She walked out of the hospital room so her mother wouldn't worry and told the nearest nurse, between gasps, that she needed a CT scan with contrast and IV heparin (a blood thinner) right away. The nurse thought her pain medicine might be making her confused. But Serena insisted, and soon enough a doctor was performing an ultrasound of her legs. "I was like, a Doppler? I told you, I need a CT scan and a heparin drip," she remembers telling the team. The ultrasound revealed nothing, so they sent her for the CT, and sure enough, several small blood clots had settled in her lungs. Minutes later she was on the drip. "I was like, listen to Dr. Williams!"
This story is remarkable to me for several reasons. 1. Serena knew more about her health issues than the doctors caring for her! 2. This story started an outpouring of discussion from women, especially from black women, who have faced similar experiences with health problems going unaddressed and their voices going unheard. According to the Centers for Disease Control, black women are over three times more likely than white women to die from pregnancy- or childbirth-related causes. 3. She didn't want her mother to worry! Is this because she cared more about her mother's feelings than her own health? OR perhaps was it because Serena knew that a panicking older African American non-famous woman would have even less credibility under the circumstances?
Honestly, don't be afraid to make a fuss!
Based on a photograph by Edwin Martinez
Sources: Vogue Magazine and Wikipedia
Addendum: About black women and maternal health—let's be clear, in a just world it shouldn't be the job of the patient to educate the doctor. And if we address the problems we have with black maternal health we will be addressing the problems of everyone's maternal health. And if we improve maternal health we will be improving the health of everyone, because everyone comes from a mother.