Posters
After the devastating slap of the 2016 presidential election in the US, the Women's March was a tonic. With so many people who came from all over—and the sister marches around the world—it is clear that progressive action is becoming more potent than ever. And it is fired by female power. As I've been saying! The perSISTERS Series posters and prints are available at Black Lab Art Studio (and at Femme Fatale DC Pop-Up Shop) in 16 x 20 inch ($45) and 11 x 14 inch ($30) sizes, with $15 flat rate shipping and handling to US addresses. You can also order these printed on canvas and stretched on a frame AND SHIPPED TO YOU for $70 (11×14). These stretched canvas versions are ready to hang on your wall, no framing necessary. 16 x 20 inch posters on stretched canvas, signed and dated by the artist (Leda Black), are available for $200 ($15 shipping will be charged for these).
Contact me if you would like me to ship and I'll send you an invoice. Wouldn't one of these make a great gift for a "Nasty Woman" in your life?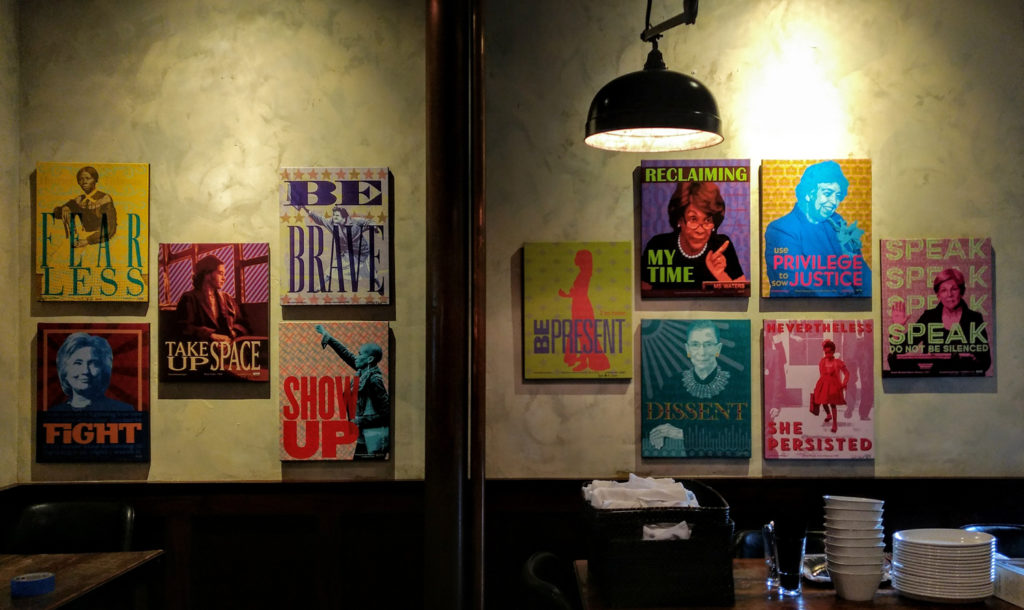 perSISTERS Small Prints, Stickers, and Sets
I have selected 10 poster designs to produce as 5 x 7 inch small prints, printed offset and gloss varnished, with information about the women printed on the backs. Each print is $4.00 and you can order a labelled and packaged perSISTERS Small Prints Set with all 10 small prints for a discounted $25.00. I also sell these in simple frames for $15.00. Click here to see the small prints (5 x 7 size).
I have adapted three poster designs available as 3 x 4 inch crack and peel stickers (BE BRAVE, BE PRESENT, STAND UP). Stickers are $3.00 each or 6 for $15.00. Click here to see these sticker designs.
Here are the poster designs
This page has been arranged to show posts about the posters as I create them. So click on the links below.