Mimesis comes out of a train of thought I have been riding for the past few years. I have been playing with the interface between three categories of objects: plant; animal; and human-made. My goal is to call attention to the categories we use to divide up the world, in an attempt to free ourselves to see things as unhooked from our expectations. In these works I have been combining (layering, morphing, aligning using Photoshop) different objects that share visual characteristics. (See these series: Pseudomorphs; Celestial Bodies; Correspondences.)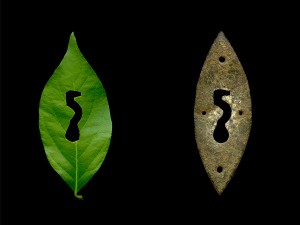 In the Mimesis images I started with the physical objects themselves. I chose pairs of things (one natural, one human-made) that have similar shapes and then physically manipulated one of the pair to more resemble the other. I started with the metal keyhole plate, which had a leaf shape, and then cut the hole out of a real leaf.
"Mimesis" means imitation and, by extension, representation. In what sense can we say the leaf represents the keyhole?
When I saw first two images together I knew the book form would be perfect for this series, each pair could occupy a spread. And so I've made a book from these images, called… mimesis. The book incorporates one continuous eight foot long piece of inkjet printed canvas that folds into an accordion structure. I will produce this book in a very small edition (six, I think) and the price will be $500. I will edition individual prints (each pair makes one print) in 11″ x 14″ and sell these for $150. Contact me if you would like to order directly from the artist.
This work will be featured in a group show called PHOTOBOOK at Vivid Solutions Gallery, November 7 – December 19 with an Opening Reception on Friday, November 7 from 6–8 pm.
You can also see a mimesis prototype and some mounted prints in my studio, Black Lab. A good time to come is this Thursday, October 16, 6:00–8:00pm during the Third Thursday open studios on the Arts Walk. Many studios will be open and some will be hosting special events. 716 Monroe Street NE, Studio #16, Washington, DC 20017. We are steps from the Brookland/CUA Metro Station, Red Line.