I'm back to work on perSISTERS with a love story for Valentine's Day. I have a few 11 x 14 of this design in the studio now. This one is for Edith Windsor.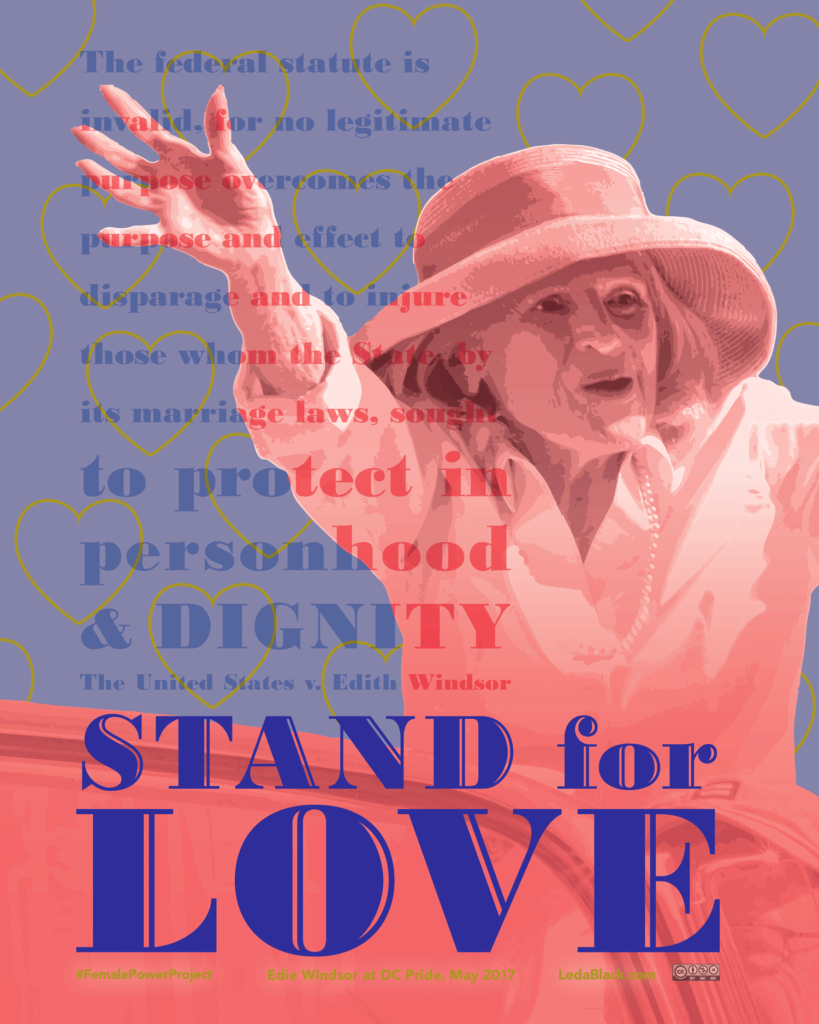 "It has to do with our dignity as human beings, our ability to be who we are, openly."
Edith "Edie" Windsor (née Schlain; June 20, 1929 – September 12, 2017) was a Philadelphia-born LGBT rights activist and a technology manager at IBM. At that time there were fewer barriers to women in computer science, and she reached the highest technical level in the company. She was the lead plaintiff in the Supreme Court of the United States case United States v. Windsor, which successfully overturned Section 3 of the Defense of Marriage Act and was considered a landmark legal victory for the same-sex marriage movement in the United States.
Edie met her partner, Thea Spyer, in 1963 and began dating in 1965. In 1967 Thea asked Edie to marry, although same-sex marriage was not yet legal anywhere in the United States. They kept their engagement secret in their professional and public lives. In 1977 Thea was diagnosed with progressive multiple sclerosis which caused gradual and increasing paralysis. Edie became a full-time care-giver for Thea. Edie describe her relationship with Thea as "lover" not as "care-giver." They entered a domestic partnership in New York City in 1993, registering on the first available day. In 2007, Thea's doctors told her she had less than a year to live. New York had not yet legalized same-sex marriage, so the couple opted to marry in Toronto, Canada, on May 22, 2007, with Canada's first openly gay judge, Justice Harvey Brownstone, presiding. Thea died from complications related to a heart condition on February 5, 2009.
Edie became the executor and sole beneficiary of Thea's estate, via a revocable trust. Edie was required to pay $363,053 in federal estate taxes on her inheritance of her wife's estate. Had federal law recognized the validity of their marriage, Edie would have qualified for an unlimited spousal deduction and paid no federal estate taxes.
Edie sought to claim the federal estate tax exemption for surviving spouses. She was barred from doing so by Section 3 of the Defense of Marriage Act (DOMA) (codified at 1 U.S.C. § 7), which provided that the term "spouse" only applied to marriages between a man and woman. The Internal Revenue Service found that the exemption did not apply to same-sex marriages, denied Edie's claim, and compelled her to pay $363,053 in estate taxes.
In 2010 Edie filed a lawsuit against the federal government in the U.S. District Court for the Southern District of New York, seeking a refund because DOMA singled out legally married same-sex couples for "differential treatment compared to other similarly situated couples without justification." In 2012, Judge Barbara S. Jones ruled that Section 3 of DOMA was unconstitutional under the due process guarantees of the Fifth Amendment and ordered the federal government to issue the tax refund, including interest. The U.S. Second Circuit Court of Appeals affirmed in a 2–1 decision later in 2012. The U.S. Supreme Court heard oral arguments in the case in March 2013, and in June of that year issued a 5–4 decision affirming that Section 3 of DOMA was unconstitutional "as a deprivation of the liberty of the person protected by the Fifth Amendment."
These sorts of cases are usually brought before the Supreme Court by groups of plaintiffs which include people of several races and sexes, and no one person comes to represent the case. It was unusual to single out one representative person, but Edie's lawyer, Roberta Kaplan, felt that the elder femme's signature pink lipstick, pink scarf, and pearls would make it possible for people all over the country to relate to her. Also relatable was the IRS sticking it to a devoted widow. I believe it is important to note that this is how an economically privileged white woman comes to represent a diverse population of LGBTQ folks. But there it is. One should also note that lusty and frank Edie was encouraged NOT to talk about sex publicly during the case. It was thought best for people to think of her as sexless, which they would assume she was since she was 84 years old. Old ladies aren't "perverts," right? Edie did marry again in 2016.
"If you have to outlive a great love, I can't think of a better way to do it than being everybody's hero. Suddenly I'm exalted, instead of being this goofy old lady, which is what I feel like."
Sources: Wikipedia here and here, Ariel Levy in The New Yorker Magazine, and the obituary there, plus numerous interviews and clips found on YouTube.