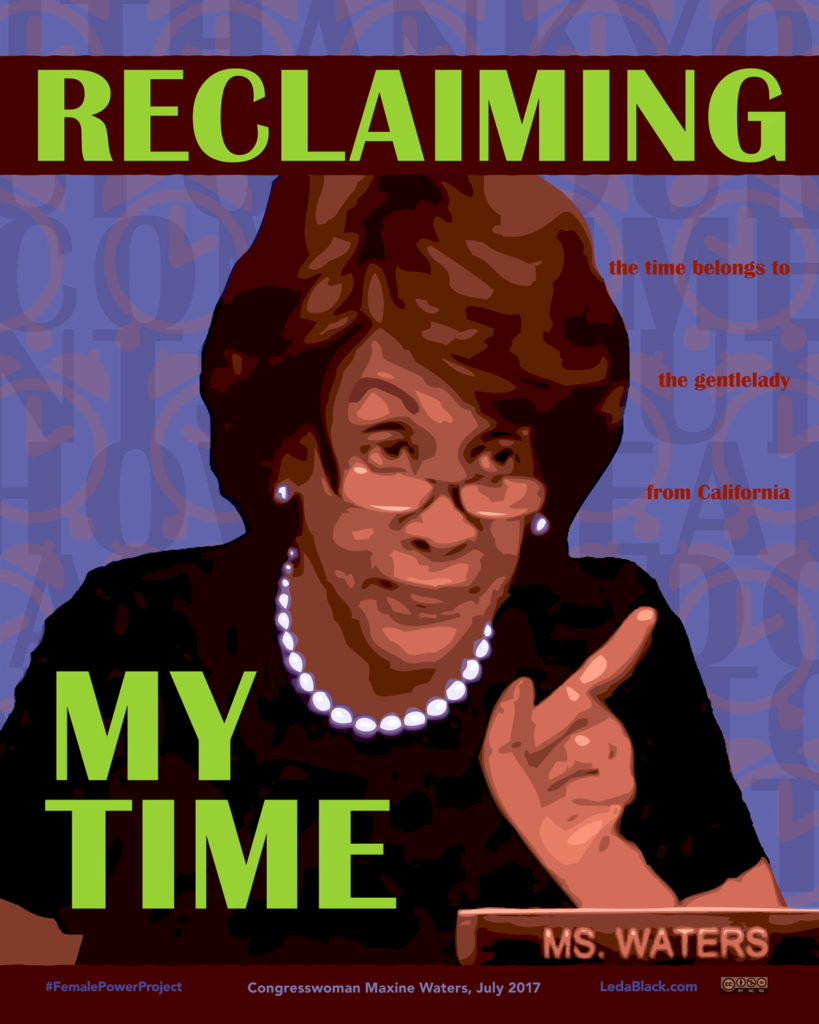 There's so much to make art about right now. Sigh.
"I thank you for your compliments about how great I am but I don't want to waste my time on me."
"The time belongs to the gentlelady from California."
I've wanted to do a piece on Maxine Waters for a while but I've been waiting for a copy-able image of her looking over her reading glasses. The best one (not available for reuse) was by Alex Wong for gettyimages. But now I've made an illustration based on the video feed from the House Financial Services Committee meeting of July 27, 2017. Christine Emba of the Washington Post writes: "Treasury Secretary Steven Mnuchin was testifying before the committee about the state of the international finance system when Waters, the committee's ranking Democrat, asked why his office had not responded to a letter from her regarding President Trump's financial ties to Russia. Mnuchin tried to sidestep the question with platitudes and compliments, apparently attempting to run out the clock on her questioning. It didn't work. Waters shut down his rambling and redirected him to her question again and again with the phrase "Reclaiming my time," a stone-faced invocation of House procedural rules."
When I first started researching Maxine Waters and her questioning of Mnuchin, I was discouraged to see that the right's painting of her as an "unhinged liberal" claimed the top three search results. When I went back to get the exact words for the background text in this design, I saw that the search results have been seized by the progressives because of the meme-ing phrase "reclaiming my time" and the amazing viral song produced by Mykal Kilgore. (You have to watch it!)
Seize the narrative.
From Wikipedia:
Maxine Moore Waters (born August 15, 1938) is an American politician, serving as the U.S. Representative for California's 43rd congressional district, and previously the 35th and 29th districts, serving since 1991. A member of the Democratic Party, she is the most senior of the 12 black women currently serving in the United States Congress, and is a member and former chair of the Congressional Black Caucus. Before becoming a member of Congress she served in the California Assembly, to which she was first elected in 1976. As an Assembly member, Waters advocated for divestment from South Africa's apartheid regime. In Congress, she is an outspoken opponent of the Iraq War and Donald Trump.
Waters was born in 1938 in Kinloch, Missouri. Fifth out of thirteen children, Waters was raised by her single mother once her father left the family when Maxine was two. She graduated from High School in St. Louis, and moved with her family to Los Angeles, California, in 1961. She worked in a garment factory and as a telephone operator before being hired as an assistant teacher with the Head Start program at Watts in 1966. She later enrolled at Los Angeles State College (now California State University, Los Angeles) and graduated with a sociology degree in 1970. In 1973, she went to work as chief deputy to a Los Angeles City Councilman, and in 1976 she launched her political career in the California State Assembly.