The perSISTERS works are not the only things I'm making right now, but they are the pieces I finish the fastest. Every few days something happens to make a protest poster about! Soon I will be posting more about my (working title) Landscape of Objects pieces. August 28 is my deadline to complete three in that series, so there's not long to wait.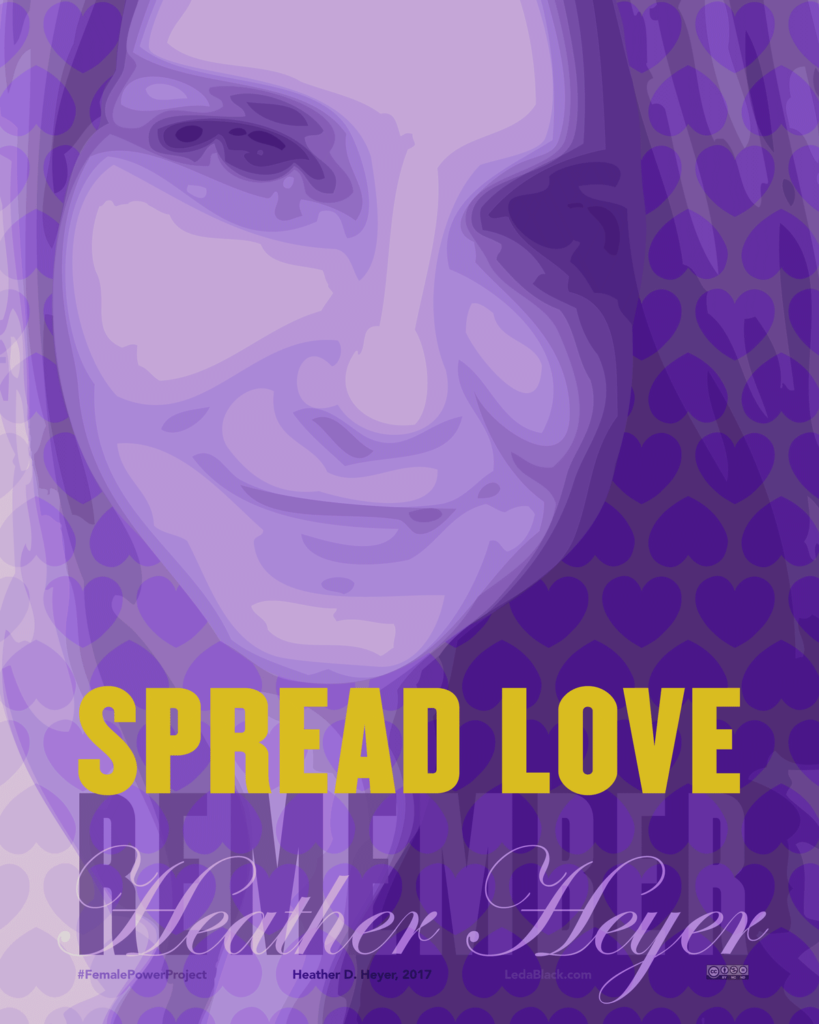 So, Heather Heyer. This poster will be available at Black Lab starting on Thursday, August 17.
Heather Heyer, a 32 year old activist for social justice, was killed by a racist white supremacist terrorist in Virginia in August, 2017.
The following is excerpted, with light editing, from an article in the New York Times of August 13, 2017, written by Christina Caron.
Heather D. Heyer was killed on Saturday, August 12,  in Charlottesville, Va., when a car crashed into demonstrators protesting a white supremacy rally.
Heather D. Heyer died standing up for what she believed in.
Friends described her as a passionate advocate for the disenfranchised who was often moved to tears by the world's injustices. That sense of conviction led her to join demonstrators protesting a rally of white nationalists in Charlottesville, Va., on Saturday.
"We were just marching around, spreading love — and then the accident happened," a friend, Marissa Blair, said. "In a split second you see a car, and you see bodies flying."
The authorities said Ms. Heyer, walking with her friends, was killed when a car driven by a man from Ohio rammed into the crowd.
"Heather was such a sweet soul, and she did not deserve to die," Ms. Blair said on Sunday.
Others said Ms. Heyer, who lived in Charlottesville, spoke out against inequality and urged co-workers to be active in their community.
"Heather was a very strong woman," said Alfred A. Wilson, a manager at a law firm where Ms. Heyer worked as a paralegal. She stood up against "any type of discrimination," he said. "That's just how she's always been."
Mr. Wilson said in an interview on Sunday that he found her at her computer crying many times. "Heather being Heather has seen something on Facebook or read something in the news and realized someone has been mistreated and gets upset," he said.
She often posted messages on Facebook about equality and love, said Ms. Blair, who recently left the law firm. "She's always so passionate and she speaks with so much conviction all the time," she said.
She worked to improve herself by taking classes and studying. "If she's going to do something, she made sure she understood it," Mr Wilson said.
Ms. Heyer lived alone with her Chihuahua, Violet, who was named after her favorite color.
For her, activism was about more than just "sitting behind your computer screen," Ms. Blair said. "You gotta get out in your community and do things."
"I've never had a close friend like this be murdered," Ms. Blair said. "We thought, 'What would Heather do?' Heather would go harder. So that's what we're going to do. We're going to preach love. We're going to preach equality, and Heather's death won't be in vain."